Full Axles
Town and Country Tyres can accommodate any agricultural axle and suspension need, as our range of Full Axles further shows. Importing the reputable ADR brand of full axles and self-steering full axles we go further than providing you with what you need. We aim to give you superior advice and support throughout the entire process of analysing what the axle needs to achieve and selecting the right axle and suspension system to do the job. Full axles and self-steering full axles are great for applications on implement machinery.
Full Axles
Full Axles Full Axles are manufactured using a round or square shaft with hubs designed to suit your agricultural application. Hubs have high speed tapered roller bearings. Most of our full axles are manufactured to European specifications, i.e: 5 on...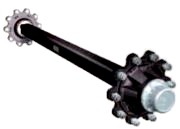 Self Steering Full Axles
Self Steering Full Axles A short stub or full length axle complete with hub, including a vertical shaft which allows the hub to pivot. Used for changing direction (steering).  Available in 5 on 140 PCD hubs, 6 on 205...