Dual Wheel Systems
DUALS 2016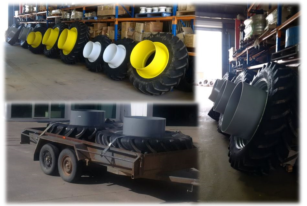 With the wet season and harvest fast approaching Town & Country Tyres are doing everything we can to make harvest easier. Our Clip-On Duals for headers and swathers have become a popular solution with many farmers. Our first kits have already left our factory. With limited stocks remaining get in fast to make sure you don't miss out!
Dual Wheel Systems - Town and Country Tyres
If you're looking for excellent value at low cost, a 
Dual Wheel system
 could be the answer.  Tested in tough conditions over many years, 
Dual Wheel systems 
give you the advantage of increased flotation (less soil compaction and less damage to crops and pasture) and traction (because there are more lugs per square inch, i.e. a larger footprint) as well as improved stability, an exceptional asset on hilly terrain.
Our Dual Wheels use a clip-on dual system developed in the UK and tested over 30 years.  The quick release over-centre clamp makes it fast and easy for farmers to remove and fit duals.  Also used in Dual Wheel systems are 
Wheel Spacers
.  These cotton-reel type spacers can be used as a dual spacer and for widening track settings for crop line applications.
The outer rim can also be painted or powdercoated to match the original colour of your tractor.  Our expertise in the management and installation of 
Dual Wheel systems
, as well as 
Tyre & Wheel Conversions
, is guaranteed to impress!
For further information on Dual Wheel Systems please contact the friendly team at Town & Country Tyres on 
02 6953 7711 
or 
email us
!